Chicago Convention Was A Success…What's Next?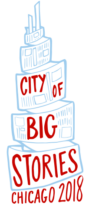 We are speeding towards the holidays. With the JEA/NSPA Chicago convention in the rearview, let's set our sights on what is ahead.
We'll have more on schools that won awards soon, but it's a pretty robust list despite the number of attending schools being quite small compared to other states.
In short, the convention was amazing. We had great weather for Chicago in November. I took my 11 attendees to Northwestern for a campus tour of one of the best journalism schools in the nation as soon as we got to town.
On Thursday, all 11 of our students attended a preconvention workshop on a variety of topics with some of the biggest names in the journalism field. If you're on the listserve, you know names like Mike Simons, Carrie Faust and Bradley Wilson. It's great for my kids to get to hear me talk every day, but so much more amazing for them to get to branch out and spend an entire day with some of the best in the business.
As an amazing bonus, they got to hear from White House photographer Pete Souza. It was inspiring. That was just day one.
They spent the next two days in sessions hearing from other leaders in our field. Friday afternoon several Kentucky journalists competed in Write Off competitions. (They did great. Again, more on that to come.)
After the closing ceremony, we made the rainy five hour drive back to Louisville.
So what's next? Whether you went to Chicago or not, there is so much on the horizon.
Convention season officially starts in March with SIPA. I would love to grow our membership there. SIPA is the Southern Interscholastic Press Association. If you are nervous about taking your kids to a huge convention, (Chicago had 6,300 kids) I implore you to give SIPA a shot. It's housed at the University of South Carolina and many of our contests take place on campus in their journalism building. It's truly a family and I would love to welcome you to it. Please let me know if you want more information. This year it's March 1-3.
The next convention on the docket is the Columbia Scholastic Press Association. It takes place March 20-22 and is always held on Columbia University's NYC campus. If you are looking for a great fusion between journalism education and exploring the city at the heartbeat of the nation, this is the conference for you. I've taken kids the past two years and I always will. There aren't many places with more history and opportunities than New York. (You can also generally fly into there pretty cheap.)
The JEA/NSPA west coast conference for the year is April 25-27 in Anaheim. The convention hotel is literally steps away from Disneyland. It's amazing. It's been a few years since we were there, but the last convention there was great for kids.
Maybe travel for this year isn't in your future. Next year's JEA/NSPA event will be in Washington DC with the following spring in Nashville. You're running out of excuses not to attend a conference. Please contact me with any questions. I would be more than happy to help get you there.
Larry