Registration is open for JEA/NSPA National Conference in Chicago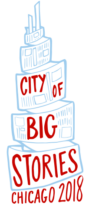 Whether you've been to a dozen national conferences or you are thinking about your first, Chicago offers some opportunities that we don't often get to take advantage of in our area. Chief among those is accessibility through means other than a plane. That can mean lower costs for your students and your program.
In addition to hearing from hundreds of the best journalists and advisers from around the country, there are so many other opportunities for your students. They can compete in Write-Offs to test their skills against their peers. There are several amazing tours still available. There are even Thursday workshops that go a little more in depth than the normal session. The most important, however, is team building. Taking your staff to a convention offers an opportunity for them to grow closer.
In addition to building within their team, there are so many opportunities to make connections and build relationships with staffs from around the United States. Several staffs have developed bonds that have been handed down from staff to staff and they look forward to rekindling their friendship at the convention.
If you're an adviser and you're still not sold, there is plenty in it for you too. There are adviser only session and plenty of social events to keep you busy. In a world where we generally feel like islands within our districts, this is a great way to develop a national PLC. If you're tired of meaningless PD sessions that you feel like don't apply to you, it's time to get you to Chicago.
If you need help trip planning, or have any questions at all, please don't hesitate to contact JEA Kentucky state director Larry Steinmetz.